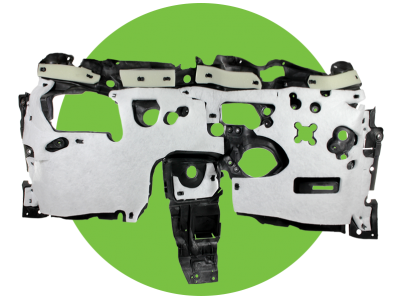 Ecobarrier® Thermoplastics PolyOlefin (TPO) series of products represents the highest level of performance and functionality in applications that require superior acoustical management.
The Ecobarrier series offers a wide range of specific gravity and flexural modulus option to meet your specific application needs. Tylical applications include Automotive Dash Insulators, Door Rain Shield, Wheel House Opening Insulators and Speaker Enclosures.
Not only a high performance product for acoustical management, Ecobarrier is a sustainable product as well. It can be formulated utilizing approved recycled materials which is beneficial for the environment. Furthermore, all Ecobarrier products are 100% recyclable.
Specific gravity range of 0.9 - 1.8 g/cc
Wide range of Flexural Modulus options
Excellent Tear Strength
Easy to process
Can be formulated for injection or extrusion
Recycled content formulations available
100% recyclable